February 1, 2023
Seoyon E-HWA, a Hyundai supplier, to locate in Savannah Chatham Manufacturing Center
Governor Brian P. Kemp today announced that Seoyon E-HWA, a global auto parts supplier that manufactures both interior and exterior components, will create 740 new direct and indirect jobs and invest almost $76 million in a new manufacturing facility in Chatham County.
"When I announced the largest economic development project in Georgia history last year, I promised it was just the start in bringing even more jobs and opportunity to hardworking Georgians," said Governor Brian Kemp. "As we work to ensure our state is the e-mobility capital of the nation, projects like this will continue to choose the No. 1 state for business and benefit communities in just about every zip code of Georgia."
Established in 1972, Seoyon E-Hwa operates 32 corporations in North America, South America, Europe, and Asia. Seoyon E-Hwa supplies door trim, headlining, seats, C/PAD, bumpers, and other parts to Hyundai Motor Group, Kia, Mercedes-Benz, Ford, Volkswagen, and more. Seoyon's LaGrange location will continue to support 630 full time jobs.
"Seoyon E-Hwa is an automobile manufacturer in various countries such as Korea, Europe, and India. With our experience in developing and producing parts, it is an honor to be able to supply electric vehicle parts in Chatham County, Georgia," said Seoyon E-Hwa Chairman Mr. Ryu Yang-seok. "With the establishment of Seoyon E-Hwa Savannah, we hope that it will not only provide new jobs in the region but also contribute to making Savannah a central city for automobile development and production. For that, Seoyon E-Hwa will do its best to cooperate with the local government continuously."
Seoyon's new facility will be located at the Savannah Chatham Manufacturing Center, a Georgia Ready for Accelerated Development (GRAD) Certified site. The new manufacturing facility will produce automotive interior parts such as door trims, headlining, and tailgate trims. Production is expected to begin in October 2024. More than two-thirds, or approximately 500, of the announced jobs will be permanent roles in human resources, development, quality, and production personnel. Interested individuals can learn more about Seoyon at www.seoyoneh.com.
"We are delighted with today's announcement that Seoyon E-HWA will be locating in the Savannah Chatham Manufacturing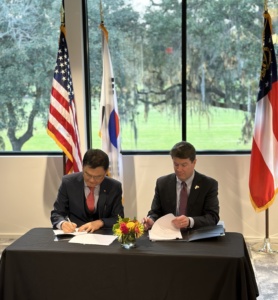 Center, which ideally positions them in close proximity to the Hyundai Motor Group Metaplant America, the Port of Savannah, Interstates I-16 and I-95, and more," said Savannah Economic Development Authority President and CEO Trip Tollison. "Seoyon E-HWA has a proven track record of supplying the automotive industry and will provide well paying jobs for our region. We look forward to working with them as they grow in Savannah."
"Seoyon is a valued customer, using the Port of Savannah to supply its manufacturing facility in West Georgia," said Georgia Ports Authority Executive Director Griff Lynch. "We're excited to help support Seoyon's growth in this new location as the Hyundai announcement continues to have positive ripple effects throughout our regional economy."
Director of Project Implementation and Supplier Strategy Alyce Thornhill represented the Georgia Department of Economic Development's (GDEcD) Global Commerce team on this competitive project in partnership with the Savannah Economic Development Authority, Georgia Ports Authority, Georgia Quick Start, and Georgia Power.
"With its second Georgia facility, Seoyon is committing to nearly doubling the number of jobs it supports in the state and extending its partnership with our business community," said GDEcD Commissioner Pat Wilson. "As anticipated, Hyundai's new EV facility is drawing an experienced and dedicated supplier network to the region, adding to the state's industry expertise and shaping a larger skilled workforce. That level of growth gives our industries the groundwork for future success, and we're excited to work with our many partners across the state and near Savannah to create the jobs of the future."
Building on the assets that make the automotive industry successful, Georgia is positioned as a hub for the electric mobility industry. Since 2020, more than 35 EV-related projects have announced over $21 billion in investment and 26,700 jobs in Georgia. On October 25, Hyundai Motor Group Metaplant America officially broke ground in neighboring Bryan County on its first fully dedicated EV and battery manufacturing facility. In addition to Hyundai's direct contributions to the region, offsite suppliers have already exceeded the $1 billion in investment predicted from other locations connected to the project around the state by more than $600 million.