Welcoming Business From Around the World
Savannah is a vibrant, progressive, diverse, forward-thinking business community and home to many international businesses including Mitsubishi Hitachi Power Systems and the North and South American headquarters of JCB, Inc.
Savannah's ideal location on the Atlantic Ocean in the southeastern part of the United States puts 70 percent of the U.S. population within a two-day drive by ground, water, rail or air.
Savannah is home to the fastest-growing port in the nation, connected to the most extensive surface transportation network in the United States, and includes the Savannah Hilton Head International Airport, which has seven direct flights to Hartsfield-Jackson Atlanta International Airport, the world's busiest and most efficient passenger airport. The state of Georgia is also home to 42 bi-national chambers of commerce and more than 25 foreign governments have operations in Georgia.
In Savannah, SEDA works with our partners, which include World Trade Center Savannah (licensed by SEDA), the City of Savannah, Chatham County, the Georgia Department of Economic Development, Georgia Power and others, to promote and actively locate international businesses to Savannah as well as facilitate the transition to locating, hiring employees and opening a business in Savannah.
And just ask any business that has opened its doors here — you will be instantly welcomed with open arms. The Savannah business community will be there for you from day one, making you a part of our community and instantly connecting you to the resources you need to succeed.
busiest container gateway in the nation
miles (13.8 km) from Savannah Chatham Manufacturing Center, which has available supplier sites, to HMGMA
Chatham County
average wage
World Trade Center Savannah
World Trade Center Savannah, the international division of the Savannah Economic Development Authority, forges a path for businesses in the Savannah region to compete more effectively in the global marketplace and works to identify foreign direct investment opportunities for the region. A member of the World Trade Centers Association, WTC Savannah is part of a network of hundreds of World Trade Centers in 100 countries with more than one million corporate members and associates.
Through the combined networks of international trade and business development experts, WTC Savannah meets the specific needs of its partners and clients. World Trade Center Savannah provides:
International market research
Trade advocacy and consultation
Business matchmaking
Connections to valuable public and private resources
Helps with facilitation and planning of strategic trade missions
Global Educational Programs and networking events
World Trade Center Savannah is also the administrator of Foreign Trade Zone 104, which allows delayed, reduced and sometimes eliminated duty payment on foreign merchandise admitted to a zone, as well as other savings.
Foreign-Trade Zone 104
For more than 75 years, the Foreign-Trade Zones (FTZ) program has been instrumental in promoting international trade, economic development and job creation in the United States. Authorized by the Foreign-Trade Zones Act of 1934, the FTZ program expedites and encourages foreign commerce by lowering the costs of U.S. based operations engaged in international trade. Companies operating FTZs have become a thriving sector in the economy.
World Trade Center Savannah is the grantee of Foreign-Trade Zone 104.
Cost Benefits
Duty Deferral – Customs duties deferred on imports improves cash flow
Duty Elimination – No duty or quota charges on re-exports. No duty on waste, scrap or defective parts
Inverted Tariff – Duty paid at the lower tariff rate of the imported component or finished product
Weekly Entry – Reductions in merchandise processing fees due to weekly entry
Tax Savings – Inventory may be exempt from local and state inventory taxes
Additional Benefits
Domestic and international merchandise can be warehoused together
No time limit for storage
Tighter inventory controls may eliminate year-end inventory loss adjustments
Zone to zone transfers
Direct delivery potential
FTZ 104 Region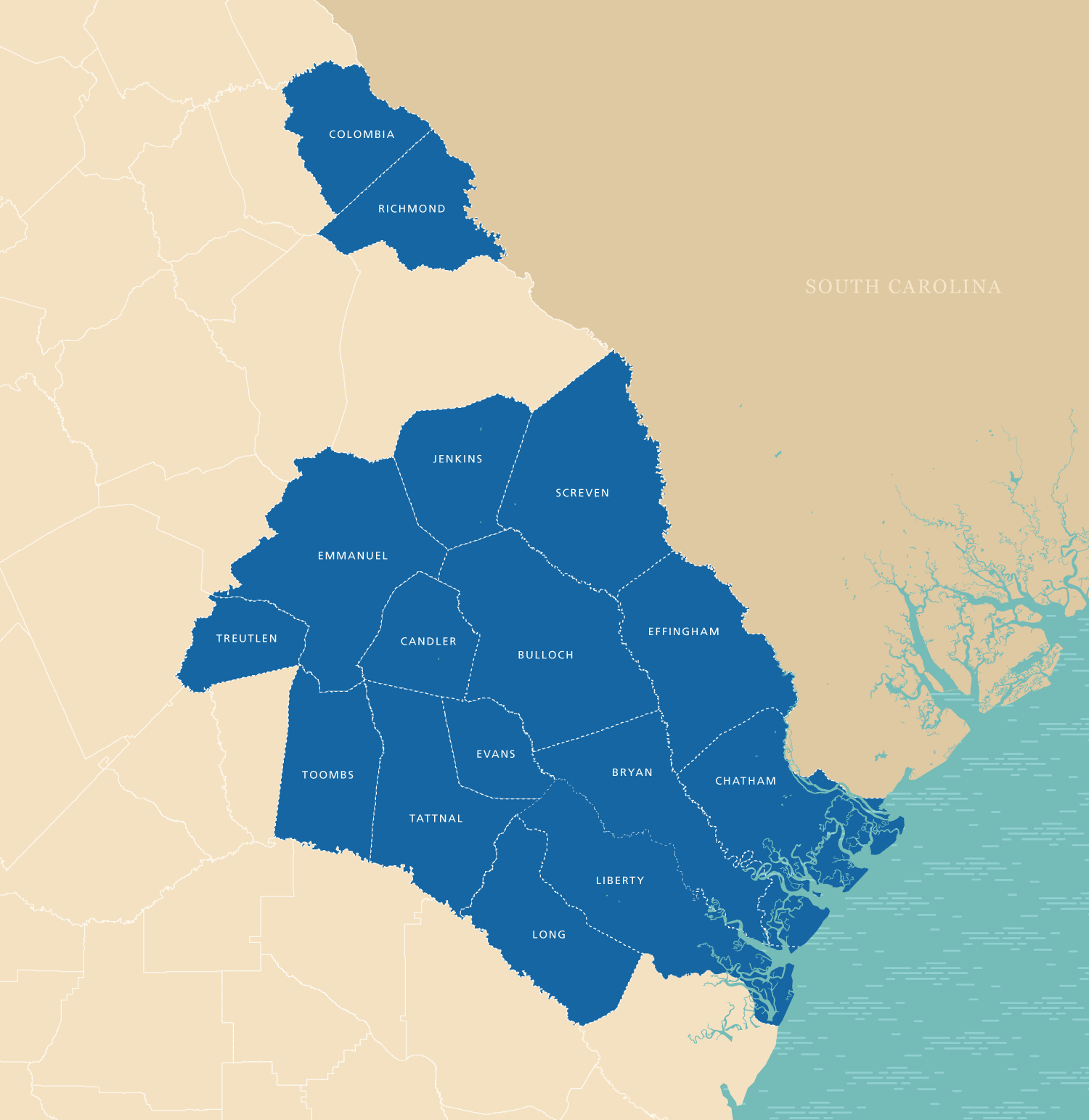 To learn more about FTZ 104 click here.