A Hot Spot for Logistics and Distribution
Fueled by the 
Port of Savannah
, the distribution sector of Savannah's economy is booming. The world's largest distributors, from manufacturers to large-scale retailers, have facilities in Savannah including The Home Depot, IKEA, Dollar Tree, Target, Floor and Decor, Wayfair and more.
largest single container terminal and fastest-growing container terminal in the nation
Class I railroads
on terminal at the
Port of Savannah
busiest container gateway in the nation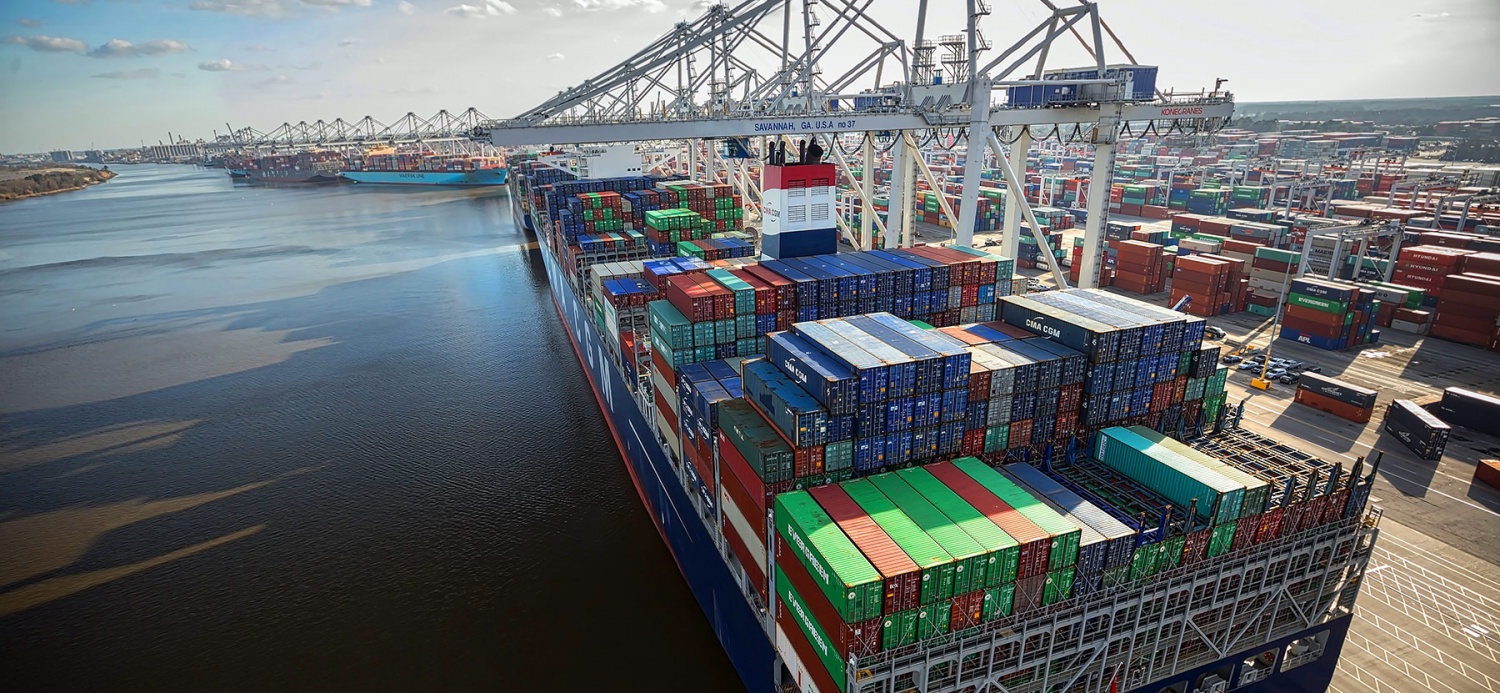 Savannah is ideally located on the Atlantic Ocean in the southeastern part of the U.S., which puts 70 percent of the U.S. population within a two-day drive by road, water, rail or air. More than three million square feet of distribution center space is available within a 30-mile radius of the Port of Savannah.
Air
Savannah/Hilton Head International Airport, conveniently located off of I-95, is Georgia's second-busiest airport with more than 40 direct daily flights. Direct connections to Hartsfield-Jackson Atlanta International Airport, the world's busiest and most efficient passenger airport, quickly puts you in touch with the world.
Warehousing
In addition to its operational advantages, there is also more than three million square feet of warehouse space available within 30 miles of the Port of Savannah as well as 1.4 million square feet of covered storage with adjacent rail. The Port of Savannah also features the largest concentration of retail import distribution centers on the East Coast.
Road
Travel by roadway is made easy thanks to Savannah's connectivity to the most extensive surface transportation network in the U.S. That includes major interstates I-16 and I-95, giving drivers easy access to the entire East Coast. Regionally, 64 percent of commutes are less than 30 minutes.
Rail
Two Class one railroads, CSX and Norfolk Southern, further enhance Savannah's connectivity with the added benefit of service to the Port of Savannah on terminal. Overall, the state of Georgia has 24 short-line rail companies covering 5,000 miles of track. Future plans at the Port of Savannah include a $128 million project that will link two rail yards, improve efficiency and grow rail lift capacity to about one million containers each year.
Water
The most impressive attribute of Savannah's logistics landscape is the Port of Savannah. Not only is the Port the largest single-terminal container facility of its kind in North America, it is also the fastest-growing and fourth-busiest container port in the nation. Most recently, the Georgia Ports Authority moved 33.4 million tons of cargo, 3.8 million 20-foot equivalent containers and more than 600,000 auto and machinery units in the span of one year. Future growth includes expansion of roads, rail, and cranes. Georgia Ports Authority also recently completed the Savannah Harbor Expansion Project, which deepened the harbor to 47 feet, in early 2022.
---
Leading Employers in this Industry
Legend: Headquarters in Savannah International
| Logistics and Distribution Employers | Product/Service |
| --- | --- |
| Agro Merchants | Cold Storage |
| California Cartage Company | Warehousing for K-Mart |
| Chatham Steel Corporation | Steel service center |
| Chemical South Transport | Transport of Hazardous and Non-Hazardous Chemicals |
| Coastal Logistics Group | Manufacturing Support, Distribution Support, Specialized Port, and Packing & Crating Services |
| Coca-Cola Bottling Company United | Soft drink/water bottling warehouse and distributor |
| Colonial Group Inc. | Storage and distribution of petroleum product and petrochemicals |
| Cross Dock USA, Inc. | Crossdocking, Distribution, Trucking, Consolidation |
| Dollar Tree | Distribution of various products |
| DSI Logistics | Distribution of various products |
| Floor and Decor | Flooring Distributor |
| Fulfillment.com | E-commerce |
| Georgia Ports Authority (GPA) | Shipping terminal, service provider |
| Gulf States Cold Storage | Cold Storage for Frozen Consumable Goods |
| The Home Depot | Home improvement supplies distribution center |
| IKEA Wholesale, Inc. | Furniture distribution |
| LST Logistics | Specialized heavy haul carrier |
| Noble House Home Furnishings | Home furnishings |
| OA Logistics | Home bedding and pet beds |
| Ocean Link, Inc. | Transport Services for Domestic and International Shippers |
| ONL-RBW Logistics | Warehousing and Distribution services |
| Outsource Logistics | Warehousing and Distribution services |
| Port City Logistics | Warehouse space and transportation services logistics company |
| Safavieh | Home furnishings Distributor |
| Schneider Logistics | Warehousing, distribution and export packaging |
| Shaw Industries Group Inc. [icone globe] | Warehouse and Distribution of carpeting, wood flooring and tile |
| Target | Distribution center for various products |
| United Distributors Inc. | Beverage distribution |
| Walmart | Warehousing and Distribution of various products |
| Wayfair | Warehousing and Distribution of various products |
*Not an all-inclusive list
Foreign-Trade Zones (FTZ)
The Foreign-Trade Zones (FTZ) program expedites and encourages foreign commerce by lowering the costs of U.S. based operations engaged in international trade thus providing a secure, efficient and profitable way to compete effectively in domestic and global markets. World Trade Center Savannah is the grantee of Foreign-Trade Zone 104.
The FTZ program allows the U.S. to achieve its trade policy goals, including export promotion, while at the same time supporting domestic job growth and economic development.
To learn more about FTZ 104 click here.