Savannah, Chatham and State of Georgia Taxes & Incentives
The Savannah Economic Development Authority, the City of Savannah, Chatham County and the State of Georgia offer many incentives to qualifying new or expanding qualifying businesses. To learn more about these incentives and additional incentives that may be available, contact SEDA.
Local Incentives
Real Property Tax Abatement
SEDA is authorized to grant property tax abatements on real property for qualifying new or expanding businesses based on board authorized guidelines with thresholds for job growth, investment, wage rates and other factors. Projects can be new construction, expansion or renovation within target industries.
Grant Financing/Discretionary Funding
In projects of great significance SEDA has an established Economic Development Incentive Fund to provide grant monies to qualified businesses in order to defray cost as a result of relocation or expansion. This money will go towards any costs associated with needed infrastructure.
Personal Property Tax Abatement
SEDA is authorized to grant tax abatements for new investment in personal property in Chatham County when such personal property is titled in the name of SEDA and will be not less than $100,000,000 in new investment over a thirty-six month period and will create or maintain a minimum of 400 direct, fulltime equivalent jobs.
Foreign-Trade Zone 104
World Trade Center Savannah is the administrator of Foreign-Trade Zone 104, which allows delayed, reduced and sometimes eliminated duty payment on foreign merchandize admitted to a zone, as well as other savings. Properties within the FTZ 104 region may be designated as an FTZ. Contact Leigh Ryan to learn more details.
FTZ 104 Region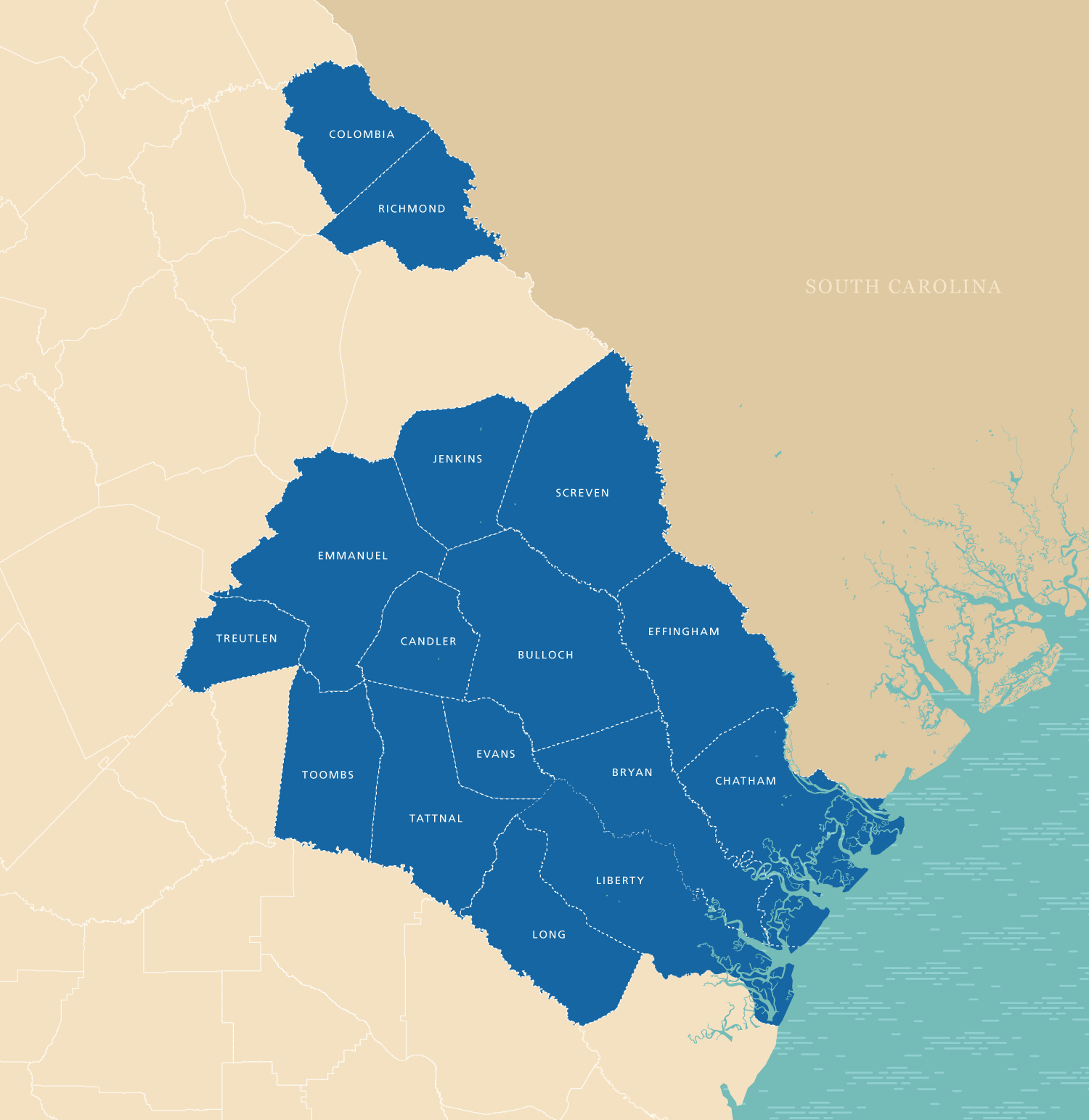 World Trade Center Savannah
World Trade Center Savannah is a proactive international business and trade development organization that exists to create jobs and attract investment by helping facilitate foreign direct investment opportunities for the region and by helping regional businesses do business internationally. Services include business development, trade missions, Global Education Programs, networking, customized in-depth research and more. A member of World Trade Centers Association, WTCSav is part of a network of more than 300 World Trade Centers in 100 countries.
Business Retention & Expansion
At SEDA, we don't just walk away after the ribbon cutting, we value "service after the sale." We realize the importance of the businesses and industries that already contribute to the economy and create jobs in Savannah and Chatham County. Through SEDA's Business Retention & Expansion programs (BRE), SEDA can facilitate the support services many local businesses need to expand and grow right in their own backyard.
Each year, SEDA's BRE team conducts site visits with local businesses to inform them of programs, services and resources including workforce development, business development, training, community involvement and expansion and investment incentives.
Entertainment Production
The Savannah Economic Development Authority offers the Savannah Entertainment Production Incentives. The local film and television incentives partnered with Georgia's already existing incentives, have helped build a sustainable production industry by increasing the number of qualified crew members living and working in the area and increasing the number of film and television productions in the Chatham County region. More information can be found at Savannah Regional Film Commission.
Additional Local Incentives
SEDA's goal is to attract high-wage, quality jobs and we strive to find creative solutions to incentivize qualified projects. New or existing businesses may qualify for additional incentives including:
Build-to-lease options
Utility Infrastructure
Waiver of local permit and connection fees
Local road work
Environmental studies/soil borings
Subsidized rent
Temporary office space
Cost offsets for LEED certification or sustainable building
Tax allocation district financing
Tax Exempt Industrial Revenue Bonds (IRBs)
And others
City of Savannah and Chatham County Incentives
County Inventory Tax Exemption
A Freeport Exemption (Inventory Tax Exemption) can be offered at the county and city level by choice of the local governments. Chatham County and City of Savannah currently exempt at 100 percent.
Companies must apply for this exemption by April 1 of each year. For more information, contact the Chatham County Board of Assessor's Office and find the exemption form here.
Foreign Merchandise in Transit Exemption
Chatham County exempts goods from the County personal property taxes when warehoused in Chatham County and has entered the export stream although temporarily stored or warehoused in the County where the port of export is located or the property has been or will be moved by waterborne commerce through the Port of Savannah and U.S. customs duties will be or already paid at the Port of Savannah and the goods are in transit to a final destination outside Chatham County, which means there must be a contract of sale. For more information, contact the Chatham County Board of Assessor's Office and find the exemption form here.
Enterprise, Military and Opportunity Zones
There are several incentivized zones located in our region. To learn more, click here.
Economic Development Credits
Pursuant to O.C.G.A. §48-13-10(f), as amended by H.B.175, economic development credits against business taxes owed may be granted to one or more types of businesses or practitioners of occupations or professions as part of a plan for economic development for the purpose of attracting, encouraging, or maintaining selected types of businesses or professions. The Office of Business Opportunity at the City of Savannah may grant such credits according to established criteria of an adopted economic development plan. Economic development credits may take the form of a tax certificate issued by the Office of Business Opportunity setting forth the type and amount of business tax credit for a specific business or practitioner of an occupation or profession, and the year(s) to which such credits are applicable. The Revenue Department will grant any such economic development credits by reducing the amount of business tax due upon presentation and surrender of a tax certificate by a business or practitioner of an occupation or profession.
Reduction in Tap-in Fees
The City of Savannah will consider reducing fees associated with tapping into the water and sewer lines. This reduction is negotiated between you and representatives from the City and is based on your projected usage.
Georgia Tax Incentives
The State of Georgia offers a range of incentives that spur job and investment growth for qualifying new and established businesses. The Georgia business tax environment benefits companies in so many ways. The state's corporate tax rate has been kept low for 50 years and qualified investments made in R&D, port use, childcare, job growth and more can lead to various tax credits and exemptions. In addition to tax credits and exemptions there are workforce incentives including Quick Start, Retraining Credits, hiring assistance and more. For more information on Georgia's incentives visit the Georgia Department of Economic Development and check out the latest incentives brochure.
Job Tax Credits
Creating new jobs in Georgia is a good way to reduce (and potentially eliminate) your company's corporate tax liability.
The Georgia Job Tax Credit gives you a credit ranging from $1,250 to $4,000 per year for 5 years for every new job created. In certain areas, the credit can also lower your payroll withholding obligations. To learn more click here.
Georgia Sales and Use Tax Exemptions
Georgia offers sales and use tax exemptions for Manufacturing Machinery & Equipment, Repair to Industrial Equipment, Raw Materials and Packaging, Energy Used in Manufacturing, Primary Material Handling Equipment, Pollution Control Equipment, Computer Hardware and Software for High Technology Companies, Clean Room Equipment, Water Costs, and Telecommunications Services. For specific details, click here.
Quick Start Employee Training
Georgia Quick Start – the No. 1 workforce training program in the U.S. – designs, develops and delivers customized workforce training, free of charge, for qualified companies that are creating or retaining jobs in Georgia. Quick Start is a part of the Technical College System of Georgia, and supports new and expanding companies, and specializes in startups and technology transfer. The training is provided as a discretionary incentive to attract investment and job creation to Georgia.
Quick Start's comprehensive training can range from pre-employment assessments to training in advanced manufacturing, Industry 4.0 technologies, and organizational development. Quick Start also develops customized training to meet the needs of companies in numerous business sectors including manufacturing, distribution, customer contact, headquarters and more. Quick Start has worked with companies in business sectors ranging from automotive to aviation, food to biotechnology, chemicals to composites.
WorkSource Georgia
WorkSource Georgia is the state's federally-funded employment and training system, working to connect talent with opportunity. These federal funds are part of a grant program called the Workforce Innovation and Opportunity Act (WIOA).
At a local level, WorkSource Georgia provides Workforce Innovation and Opportunity Act services across the state through the Coastal Georgia office. WIOA funds are allotted to individuals or businesses and administered specifically through services geared toward helping disadvantaged citizens obtain meaningful employment.
HOPE Scholarship
HOPE is Georgia's unique scholarship and grant program that rewards Georgia students who are pursuing an undergraduate degree or certification with financial assistance at eligible Georgia public and private colleges and public technical colleges. The HOPE Grant encourages technical training with no specific GPA requirements in high school.
Georgia Centers of Innovation
The Georgia Centers of Innovation(COI) are the state's leading resource for facilitating business innovation. Through the assistance of the five centers, Georgia companies translate new ideas and technologies into commercially viable products and services to better compete in the global marketplace. This economic catalyst, in turn, promotes the continued growth of the state's economy. A division of the Georgia Department of Economic Development, COI provides the leading technical industry expertise, research collaborations, and business partnerships to help the state's strategic industries connect, compete and grow. Five individual centers operate statewide with a focus on Aerospace, Energy Technology, Information Technology, Logistics and Manufacturing.
Small Business and Entrepreneurs Assistance
Small Business Assistance Corporation
The Small Business Assistance Corporation (SBAC) is a Community Development Financial Institution (CDFI), certified by the U.S. Department of Treasury. Additionally, SBAC is a Community Advantage Lender and a Certified Development Company (CDC) licensed by the U. S. Small Business Administration (SBA), and contracted by the U.S. Department of Agriculture (USDA), Georgia's Department of Community Affairs (DCA), and the City of Savannah, to promote small business development through financing and technical assistance. For more information on SBAC loans click here.