Today, the Savannah Economic Development Authority, Gulfstream Aerospace Corp. and the Savannah/Hilton Head International Airport celebrated the aviation industry. The celebration included the announcement that Gulfstream has selected Chatham County for expansions that will bring 1,600 new jobs and $150 million in capital investment. The projects include the construction of a new Gulfstream Customer Support service center and the expansion of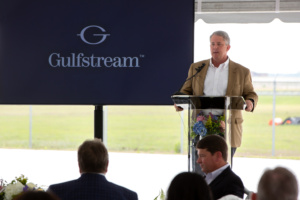 Gulfstream's manufacturing facility for the Gulfstream G400, Gulfstream G500 and Gulfstream G600 aircraft.
"Since joining the Savannah community in 1967, Gulfstream has set itself apart as a leader in the aviation industry while creating thousands of jobs for hardworking Georgians," said Governor Brian Kemp. "This announcement is further evidence of their valued partnership with our state. Gulfstream engages with our technical college system and local schools to create opportunity while also participating in programs like Georgia Made and attracting top-tier suppliers to the region. I look forward to many more decades of partnership and success for Gulfstream in Savannah."
"We are excited to announce the latest development in Gulfstream's support of the growing demand for our next-generation fleet around the world," said Mark Burns, president, Gulfstream. "Continued investments in state-of-the-art products, modern customer support facilities and our communities sets Gulfstream apart in our industry, and we are grateful to our partners at the Savannah/Hilton Head airport, the Savannah Economic Development Authority and the Georgia Department of Economic Development, among others, for their support for our growth in the region."
Gulfstream flew the first purpose-built business aircraft in 1958 and relocated to Savannah in 1967. Today more than 3,000 aircraft are in service around the world. Gulfstream currently employs more than 11,000 in Chatham County.
"More than 55 years ago, Gulfstream Aerospace chose Savannah as its home. Over the course of that time, they have become a major part of the Savannah region by investing in their facilities, creating high wage jobs and giving back to the community through many initiatives and partnerships. We know today's announcements were competitive projects and we thank Gulfstream for once again choosing Savannah," said Savannah Economic Development Authority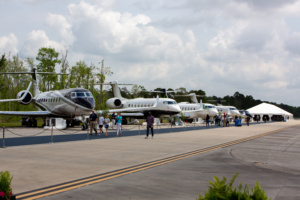 President and CEO Trip Tollison.
Officials also celebrated the partnership of the Savannah/Hilton Head International Airport, and Gulfstream throughout the years
"It has been our great fortune to have such a great and impactful partner as Gulfstream for more than half a century. This partnership has resulted in one of the largest aeronautical complexes in the world here at SAV," said Greg Kelly, executive director, Savannah Airport Commission. "This would not have been possible without substantial effort, coordination, and teamwork throughout the years by both Gulfstream and the Savannah Airport Commission. This same level of partnership continues today as new facilities are underway along with planning for future growth."
April 6, 2023