Keen Transport, a U.S.-based trucking company part of the Wallenius Wilhelmsen group, has partnered with Einride, a Swedish freight mobility company, that will provide electric and digital technology to develop a sustainable mobility solution for the company's fleet.
Einride will provide Keen Transport with a turnkey mobility solution including battery-electric (BEV) trucks that will be used for shuttle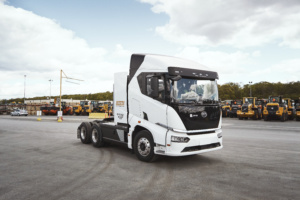 moves between the Port of Savannah and a nearby processing facility in Pooler. Einride will also support the deployment of these trucks including driver training, charging infrastructure and data insights.
Einride was selected to be a part of the first Plug and Play cohort of startups in Savannah in 2022 that the Savannah Economic Development Authority was proud to be a supporter of. Local connections, including that with Wallenius Wilhelmsen, were made as a result of the partnership.
"We are extremely proud to call Einride a member of the first cohort of the Savannah Logistics Innovation Center's logistics accelerator program," said Savannah Logistics Innovation Center Executive Director Bart Gobeil. "However, we are more proud to see their all-electric trucks on Georgia's roads. The logistics industry continues to evolve and this partnership between Einride, Wallenius Wilhelmsen and the Georgia Ports Authority demonstrates how to be at the tip of the spear of this positive evolution."
"Deploying Einride electric vehicles for heavy haul lanes, the first Keen fleet to do so, truly showcases the extensive potential in electrifying the industrial industry," said Einride North America General Manager Niklas Reinedahl. "By partnering with industry giants like Wallenius Wilhelmsen to make the switch to electric and digital shipping, we make it clear how heavy road freight can become sustainable today."
"The average loads we haul for the construction and mining industry are large and heavy," said Wallenius Wilhelmsen Senior Vice President of High and Heavy Services for North America. "We have run numerous tests to determine the load capacity and charging needs so that we can continue to operate in the efficient and timely manner that our customers are accustomed to."
Rye reiterated the cruciality to ensure the electric trucks can support the size of the loads and complete the turnaround times of the existing trucks.
"Wallenius Wilhelmsen is excited by the opportunity to make an environmental difference in a community that has welcomed and supported the logistics industry for many years," said Wallenius Wilhelmsen Chief Operating Officer Michael Hynekamp. "This investment is a commitment to ensuring future prosperity for the greater Savannah community."
About Wallenius Wilhelmsen
The Wallenius Wilhelmsen group is a market leader in roll-on/roll-off (RoRo) shipping and vehicle logistics, managing the distribution of cars, trucks, rolling equipment and breakbulk to customers all over the world. The company operates around 125 vessels servicing 15 trade routes to six continents, a global inland distribution network, 66 processing centers and eight marine terminals.
Headquartered in Oslo, Norway, the Wallenius Wilhelmsen group has 8,875 employees in 29 countries worldwide. The company's purpose is to build sustainable supply chains, imagining new, more sustainable solutions for the changing world of mobility and transport on land and at sea.
About Keen Transport
Wallenius Wilhelmsen fully acquired Keen Transport in 2018 and has since become an integral part of the company's US-based operations to provide heavy haul transportation and other value-added logistics services for construction, mining and agricultural equipment manufactures and their dealers. Keen transport is a national provider of heavy haul transportation and logistics services for the construction, mining and agricultural equipment markets. For more than 50 years, we have been developing new services and refining our technical expertise to accommodate the evolving needs of our customers and their machines.
About Einride
Einride designs, develops and deploys technologies for freight mobility. By building grids powered by a first-of-its-kind ecosystem — the intelligent platform Einride Saga, electric and autonomous fleets, charging infrastructure and connectivity networks — a resilient, cost-effective shipping future is unlocked. Founded in 2016, Einride became the first company in the world to deploy an autonomous, electric vehicle on a public road in 2019 and became the first company to receive approval to operate the vehicle on a US public road in 2022.